Call for Gauteng Youth Fund Applications!
The National Youth Development Agency (NYDA) and
Gauteng Enterprise Propeller
(GEP) are offering a blended finance instrument with 50% grant and 50% loan to youth-owned businesses.
The maximum grant is R250 000 from the NYDA and maximum part grant, and loan is R750 000 from GEP.
See poster for application guidelines and processes.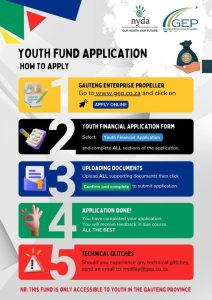 Youth Financial Application Form
Please fill out the following form. You will receive an email notifying you that we have received your submission.
Should you not be satisfied or experience any technical glitches, kindly escalate to: mpillay@gep.co.za.